WHAT IS KAIZEN?
A small change can make lives better- Is this really works?
Let's get started to know the true nature.
The term "KAIZEN" is derived from the Japanese word KAI- Change, ZEN- Good. These two terms stand together to give a single meaning "improvement." Furthermore, it entails continuous improvement in one's – personal, domestic, social, and professional lives. When it comes to the workplace, the KAIZEN term refers to a continuous enhancement process that involves everyone (managers, employees, whole organization) and bring improved results.
WHY KAIZEN?
Why Kaizen is considered very important, the kaizen is where anyone can start working it out to make a change in every aspect of their life, it may be small or big, but the motto of the kaizen is to create an impact to take your business or life to the next step. When the Kaizen is used in the industries it encourages everyone in the organization to try this and share their ideas with everyone in the concern and can make a change/improvement in their work, carrier. Finally, this would bring an empowering benefit to the organization like faster working, improving sales, and higher productivity.
The Kaizen is done as a single or team, but it creates teamwork, self-discipline, a boost in confidence, and circles of high quality.  
KAIZEN AT MAXBYTE
In our Maxbyte, the kaizen is used by all the members, it encourages everyone in the concern to implement the kaizen in their work and see the immense results, the kaizen outcomes are just tremendous, it helps in improving the quality at the workplace, faster delivery to customers, and attaining the well-growth.
Solving a pack of small problems is what the kaizen does. A small improvement to attain the large results is the perk here.
The Maxbyte celebrates kaizen by giving rewards, certification, and more surprising rewards to the employees to support them, encourage them, however, each and every Kaizen submitted will be helpful to improve ourselves as well the growth of the organization.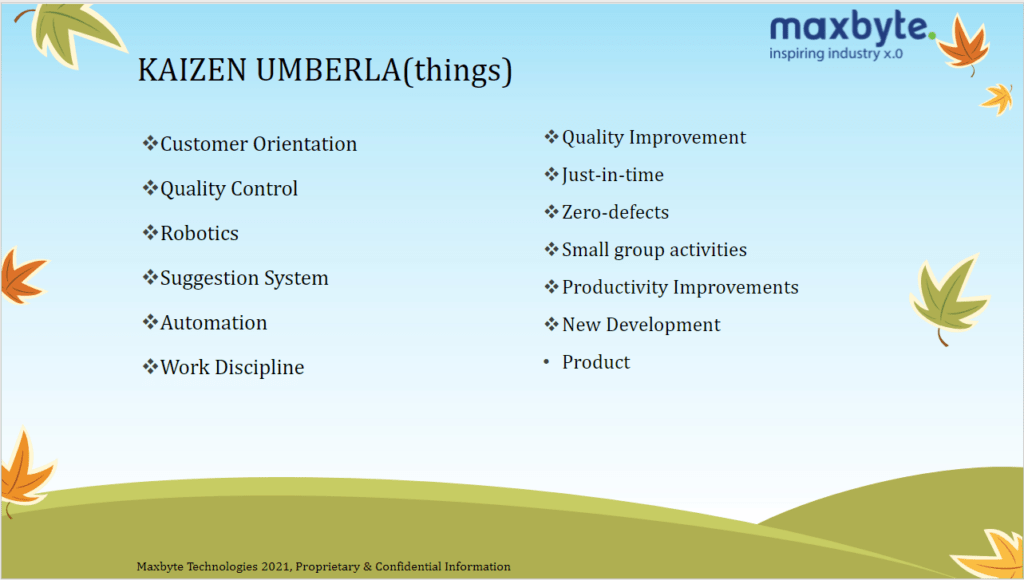 KAIZEN IMPLEMENTATION
PDCA CYCLE
Plan, Do, Check, Act – Continuous improvement process
Plan: Outline the steps that will be taken to improve the situation, as well as the objectives you aim to achieve.
Do: An experiment or small-scale research can be used to assess the possibility for improvement.
Check: To determine the plan's viability, measure and review the results.
Act: If your trial's results are positive, put the modification into action. If not, make changes to the plan and reapply.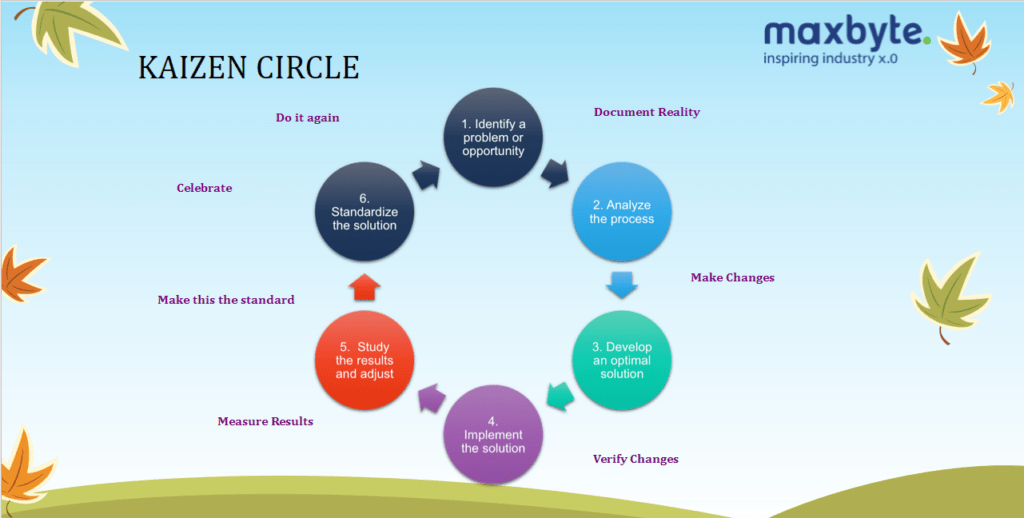 BENEFITS OF KAIZEN
Every person, in every department, is constantly looking for ways to improve. Slight tweaks can add up to big gains in productivity, reliability satisfying customer happiness, and organization growth. Almost any industry, from manufacturing to servicing can benefit from the Kaizen process. Once a solution is found, the enrichment continues.
Employee start to think differently about their work and enjoy their work
We can create tremendous long-term value
Reducing working time where it helps to do things faster instead of investing more time
Improving safety and reducing waste (resources, time)
Add value to the KPI (of employee) through motivation, Celebration, and rewards
Enrichment in production
Well safer facility and communication
Enhanced Quality and efficiency
Reduced cost in manufacturing  
To know more about how we smartly deploy digital and robots to our customers using kaizen – Contact us or Book an appointment.