Maxbyte supply an end-to-end Industrial Internet of Things edge devices hardware for OT-IT integration for legacy machines, PLC based equipment, CNC machines, robots, real-time location tracking system (RTLS), etc.. 
Following are the ten facts why industrial / manufacturing companies choose Maxbyte as their IIOT hardware partner for their digital transformation journey.
1. End-to-end IIOT hardware for ISA95 OT-IT Integration
We supply the end to end IIOT edge devices hardware includes sensors, PLC, embedded system, data acquisition, energy meters, gateways, connectors, edge server, HMI, visualization devices and accessories for OT-IT integration. We have digitized 60+ industrial enterprises with our edge devices which are running successfully.
2. Right hardware to connect any type of equipment with interoperability
We help the enterprises to connect any type of machines – legacy machines, PLC based equipment, CNC machines, robots, embedded controlled machines, real-time location tracking system (RTLS), etc.. with right IIOT hardware devices. Our Machine connectivity assessment tool helps to assess the machines in the factories for industrial machine connectivity recommendations.
3. Right data for any type of digital application use cases
Right data with right latency from right machines are critical for any industrial digital application use cases. Our quality and reliable IIOT hardware ensure the right data are transferred for the down stream applications, analytics, and artificial intelligence at on-premises or cloud.
4. Faster time to value with our standardized development, fabrication/assembly and testing process
Our proprietary devices like byteSENSE iECO smart energy energy, byteEDGE industrial console system and byteEDGE gateway server are designed for reliability and quality, vendor parts incoming inspection, process oriented fabrication/assembly and FMEA/testing/validation procedures.
PROVED DELIVERY EXCELLENCE: We deliver these cost-efficient IIOT hardware solutions with:
On-time every time

Right first time

Adherence to compliances
5. Start-of-art development and testing facility
Using our in-house IIOT edge devices development and testing centre at Coimbatore, we test each edge device as per the ISO QMS 9001 standards, norms, and the reports are generated. 
We do different types of testing before deploying and they are, 
Functionality Testing 

Compatibility Testing 

Performance Testing 

Usability Testing

Automation Testing 

Competitive Analysis Testing
6. 100+ IIOT devices and supply chain global partner network
We choose only great products for our great customers with best-in-class support. 
We have a superior procurement process for strategic sourcing, vendor management, commercial and processing fields. Our procurement experts analyse every product in the market and choose only the best that match the global standard and price. 
We don't do sacrifices in product quality, so we approach only the partners with (US, GERMANY, EUROPIAN, INDIAN) Global/ international standards. We are dealing directly with the great players in the industry and buy products only from the top tier 1,2/ (IFM for sensors, Schneider Electric for Energy) companies. 
7. Adhere to world class quality standards
We are committed to global standard practices like ISO Quality Management System 9001 and ISO Information Security Management System 27001 in our products and delivery excellence. Our solutions are of the highest standard, we follow quality standards like CE, UL, IECX, ATEX, DN-VGL, ULS. TUV 
Because we consider quality as our priority. So, we also do condition assessments and support for our customer and provide a long-life product and support. 
 

8. World wide efficient logistic network 

We have a global logistics partner network to ship our IIOT hardware products to anywhere around the globe. Recently Air India has aggregated us their Prestigious customer.
9. Beyond warranty and guarantee.. We care our products with our customers
We guarantee for every product we make and explicitly provide this for our customers. We not only offer a warranty on the products; we take the initiative to care for the products with our specialized support process system and team. 
Once the product is dispatched to the customers, we provide a prior incoming checklist, testing procedures, and dashboards to the customers. For each product, we have a separate dashboard for monitoring the quality, performance, warranty and doing the periodical assessments.  We help the customers by providing hardware support for their digital transformation throughout their journey.
10. Value for money with affordability
We have a transparent margin with modest operational cost and ensure only high-value products to the customers. We offer our customers the best and fixed prices that include premium products with affordable pricing. Affording a first-rate product with an economical cost is our product margin. 
We believe in innovation and incremental improvement, so we continuously invest in R&D and IIOT hardware supply chain network to meet our customers and market demand. To know more about our IIOT edge devices hardware and end to end industry 4.0 solutions please 

contact us

.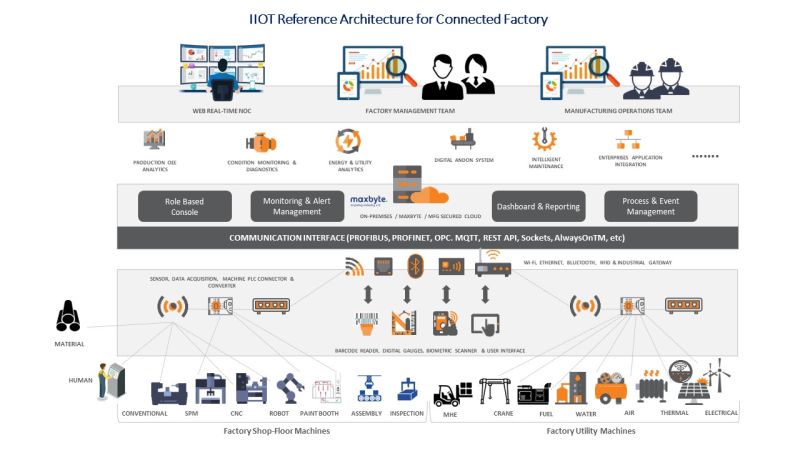 IIoT (Industrial Internet of Things) edge hardware devices play crucial roles in the context of Industry 4.0, which represents...